Description
Quench & Restore Advanced Hyaluronic Treatment features NanoActive HATM — a whole new kind of Hyaluronic Acid for a whole new kind of results. It works with any skincare regimen to improve plumping and firming results. It's a refreshing alternative to injectable fillers, with the surprise benefit of also revitalizing stressed skin to reduce the look of blotchiness and restore a healthy, rested complexion.
We modified microscopic Hyaluronic Acid molecules and complexed them with Amino Acids, Vitamin, and Phytonutrients to be more mobile and active in the skin.
It's ideally suited for anyone who: (1) is looking to step-up their skincare results, (2) experiencing physical/emotional stress or lack of sleep, (3) is noticing increased crepiness or (4) wants to accelerate plumping and firming.
Quench & Restore features a restorative scent — natural lavender essential oil to help increase a sense of calmness and promote relaxation.
---
FEATURES & BENEFITS
Plumps and firms skin
Smoothes the look of fine lines
Reduces the appearance of blotchy redness
Calms and soothes stressed skin
Restores healthy radiance
Provides a quick boost of hydration
Size: 1 oz
HOW TO USE
Cleanse and pat your skin dry
Massage a very thin layer into skin (face and/or body)
Leave on for 10-20 minutes, then rinse and pat dry
Apply other skincare treatments
Use daily, or twice daily for best results.
For maximized skin rejuvenation, pair with Wrinkle & Radiance Remedy PLUS.
As with all skincare products, we recommend anyone pregnant or breastfeeding contacts a doctor before usage.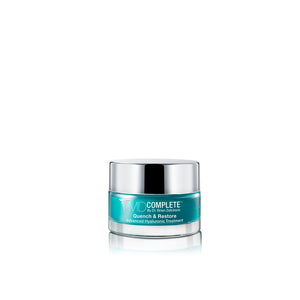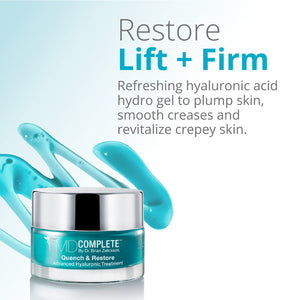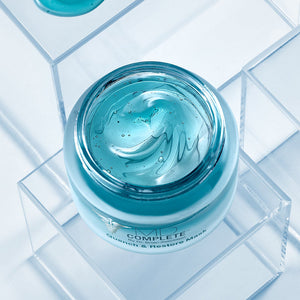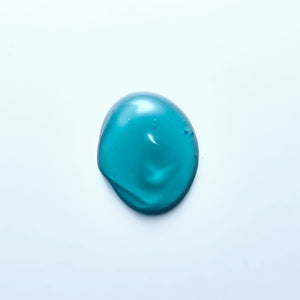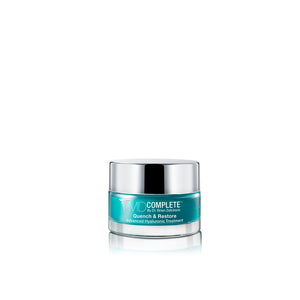 MD Complete Quench and Restore Mask
Other customers also like these...