Description
For vibrantly healthy skin that looks and feels plumper, firmer, brighter and tighter. Step up your anti-aging results with an advanced dermatologist-grade treatment for dramatic skin rejuvenation: Wrinkle & Radiance Remedy PLUS. It's a very strong formula, yet delivers a light, refreshed feeling to skin.
Advanced NanoActive HATM is an exciting new type of hyaluronic acid complex developed by MD Complete. This microscopic form of HA is more active and absorbs deeper into the surface of the skin for visible improvements in lift, firmness and crepey skin.
In addition, we enhanced the efficacy of our Vitamin C with a proprietary Brightening Complex of naturally derived carotenoids and acetylglucosamine (skin-replenishing ingredients) to improve clarity, evenness in skin tone and brighten luminosity.
You will see the difference and feel the difference.
---
FEATURES & BENEFITS
Plumps and firms skin
Visibly lifts crepey skin
Reduces the look of fine lines and wrinkles
Brightens radiance
Energizes the skin
Evens skin tone
Refines texture for supple, soft skin
Moisturizes and hydrates
DRAMATIC IMPROVEMENTS
Wrinkle & Radiance Remedy PLUS delivers dramatic improvements in the look of fine lines, skin tone, radiance, clarity, smoothness and firmness. It matches the results of the #1 Rx retinoid cream (0.025% Tretinoin).
And our proprietary ingredient encapsulation offers purity protection, making it possible to pack the formula full of pure nutrients and active ingredients to optimize bioavailability for optimal efficacy in the skin.
HOW TO USE
Use just 1-2 pumps per application.

Unlike department store products, Wrinkle & Radiance Remedy PLUS is highly concentrated, so applying more than two pumps could cause irritation.

Best results are achieved with twice daily use. Furthermore, results continue to improve over time with continued use, with visible improvements accelerating in the third month.

Wrinkle Radiance Remedy PLUS is highly moisturizing, and should eliminate the need for an additional moisturizer in all but the driest months.

For Sensitive Skin
If you have sensitive skin, start by using the product every other day.

To protect your results and prevent sun damage, always apply a broad-spectrum SPF 30-50 each morning and reapply throughout the day.

As with all skincare products, we recommend anyone pregnant or breastfeeding contacts a doctor before usage.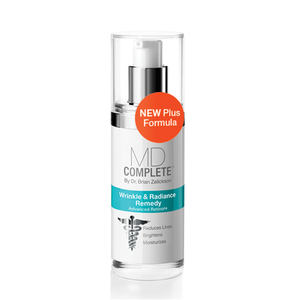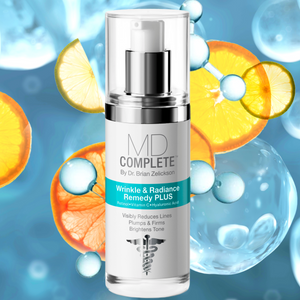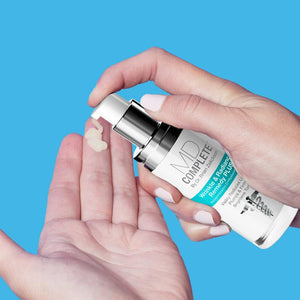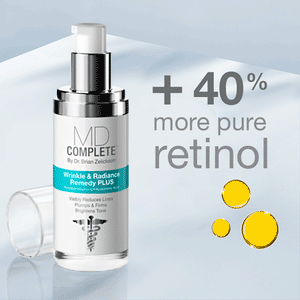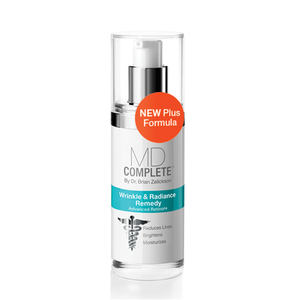 MD Complete Wrinkle & Radiance Remedy PLUS
Other customers also like these...