Description
Upgraded with optimized fruit seed extracts for clear skin tone. Increased carotenoids for a warmer glow + more antioxidants. The serum's natural fragrance notes evolved to include citrus and clean floral with hints of fruit and herbs.
Boosts the results of other skincare by as much as 20% within 2 weeks! Retinol Vitamin C Concentrate is what our fans call liquid gold.
It restores a refined, bright and healthy looking complexion with pure Retinol — up to 10x higher levels than department store products — and an advanced form of Vitamin C used by dermatologists because it is more potent and efficacious. These nutrients are made more effective by pairing them with naturally derived Vitamin E, Omega 3-6-9s, and phytonutrients from fruit and plant extracts.
Highly concentrated. Absorbs quickly. Leaves skin feeling refreshed and renewed. This nutrient-rich formula is like a multivitamin for your face.
---
FEATURES & BENEFITS
Brightens and evens skin tone
Boosts radiance for a healthy looking glow
Visibly reduces fine lines
Refines skin texture
Moisturizes and nourishes
Improves the results of other treatment products
Plus, it's also great for nourishing hair, scalp, nails and cuticles.
HOW TO USE

After cleansing and treating eyes, apply 2-6 drops to fingertips and massage into skin
For best results, massage the concentrate deeply into your skin for one minute

For maximized skin rejuvenation, pair with Wrinkle & Radiance Remedy Plus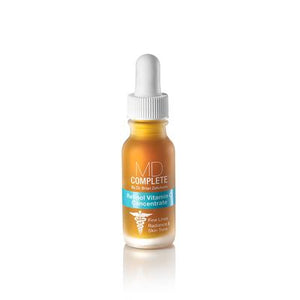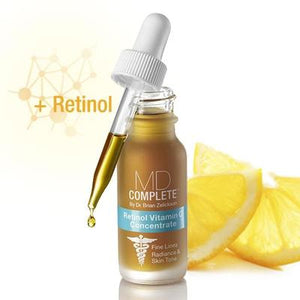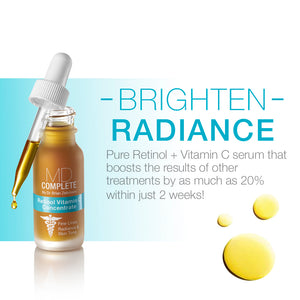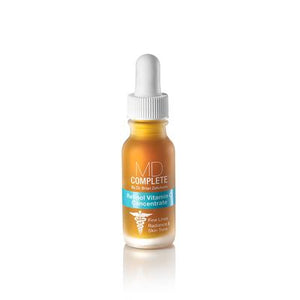 MD Complete Retinol Vitamin C Concentrate
Other customers also like these...