Description
This 2-in-1 cleanser gently yet effectively removes makeup and impurities, leaving skin feeling fresh and beautifully soft. The non-foaming formula is ideal for any skin type.
Unlike most cleansers which contain harsh ingredients that can damage the skin, Restoring Cleanser helps soothe and restore the skin's moisture barrier. This is especially important because a healthy moisture barrier helps improve the skin's ability to absorb active ingredients, making treatment products more effective.
Start your routine with a clean, calm complexion.
FEATURES & BENEFITS
Creamy, gentle formula
Effectively removes impurities and makeup
Designed to be used with professional dermatologist treatments
Supports the skin's natural moisture barrier
Size: 3 oz
HOW TO USE
In the evening, gently massage a nickel-sized amount of Restoring Cleanser onto entire face. Rinse with warm water and pat dry.
To protect your results and prevent sun damage, always apply a broad-spectrum SPF 30-50 each morning and reapply throughout the day.
As with all skincare products, we recommend anyone pregnant or breastfeeding contacts a doctor before usage.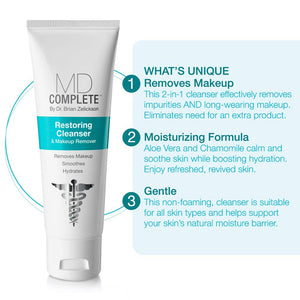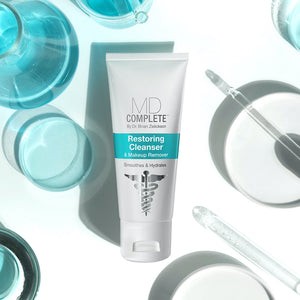 MD Complete Restoring Cleanser & Makeup Remover
Other customers also like these...