Description
Experience transformational skin rejuvenation.
MD Complete ALL That & MORE is the ideal Core Facial Treatment for advanced skin rejuvenation and anti-aging. It is highly concentrated with professional levels of Retinol, Vitamin C, skin activators, peptides and natural nutrients at dermatologist levels of effectiveness.
ALL That & MORE is ideal for those looking for the most cutting-edge, effective skincare available. It melts into skin, absorbing quickly and completely for an irresistibly light, smooth, supple and hydrated feel. Plus, this remarkable formula is surprisingly soothing and refreshing, so your skin feels alive and vibrant!
What makes it so advanced?

Advanced Skin Conditioning:

 

Polydatin (a Resveratrol precursor) + CoQ-10 + natural extracts restore and nurture skin to operate at peak performance, enabling more effective absorption and use of active skincare ingredients.

Advanced Skin Activity: 

Skin activators + Peptides + pure Retinol + Acetylglucosamine + Amino Acids + Glycogen energize and support the skin's own repair processes to deliver a fresh, more youthful appearance along with visible improvements in fine lines, lift and firmness.

Advanced NanoActive HA: O

ur highest levels of this proprietary hyaluronic acid for improved plumping, firming, visible lifting and de-creping.
Expect a creamy yellow hue from naturally derived phytonutrients and a light, clean scent from the fresh citrus extracts.
FEATURES & BENEFITS
Diminishes fine lines

Crepe reduction

Improve firmness

Enhanced plumpness

Smooth, soft, more supple skin

Brightened radiance

Boosted clarity
Nourished complexion
Balanced moisture
Antioxidant protection
Greater skin resilience or "snap"
Net Wt 1.0 fl oz
HOW TO USE
To activate bottle: twist top until it clicks 2X and then pump

Use just 1-2 pea-sized pumps per application

A little goes a long way. Applying more than two pumps could cause irritation

If you have sensitive skin or are new to Retinol, start by using the product every other day

Results continue to improve over time with continued use, with improvements accelerating in the third month of use and continuing over time. Best results are achieved by working up to twice daily use.

To protect your results and prevent sun damage, always apply a broad-spectrum SPF 30-50 each morning and reapply throughout the day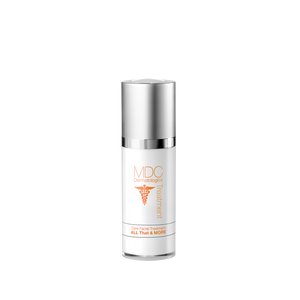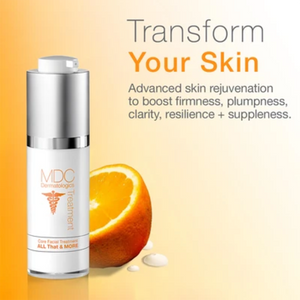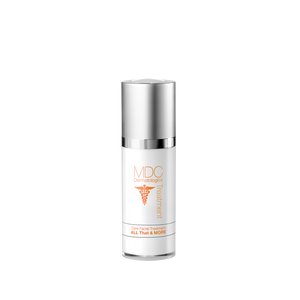 MD Complete All That & More Core Facial Treatment
Other customers also like these...