Description
AGE-DEFYING, SUPER ANTIOXIDANT, BRIGHTENING

Super Serum Advance+ is a scientifically advanced, clinically proven formula that, for the first time, combines a 15% concentration of our next generation L-ascorbic acid (Vitamin C) with a bioidentical Copper Tripeptide Growth Factor.
iS Clinical Super Serum Advance+ also contains powerful botanical antioxidants and safe skin brighteners. This extremely effective treatment reduces the appearance of stretch marks, scar tissue, uneven pigmentation and acne.
FEATURES & BENEFITS
Helps reduce the appearance of fine lines and wrinkles

Helps improve the look of hypertrophic (raised) scar tissue and fine stretch marks

Safely brightens and helps visibly diminish uneven skin tone
Provides support against environmental aggressors
Provides extremely powerful antioxidant protection
Net Wt 1.0 oz
HOW TO USE
Apply sparingly to clean skin, smoothing over face and neck (or as directed)

For best results, follow complete iS Clinical skincare regime.
KEY  INGREDIENTS

L-Ascorbic Acid

A scientifically advanced, stabilized form of vitamin C, which helps to protect against the visual effects of photo-damage while providing calming properties.

Copper Tripeptide Growth Factor

Clinically proven to help diminish the appearance of premature aging and help visibly reduce wrinkles over time.

Centella Asiatica

Powerful antioxidant with nourishing properties that helps diminish the appearance of premature aging.

Arbutin & Mushroom Extract

Assists in minimizing the appearance of uneven skin tone while brightening the overall complexion.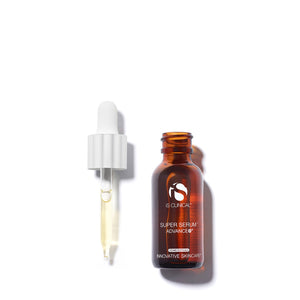 iS Clinical Super Serum Advance+
Other customers also like these...